Happy Animal - Lion Arcade Machine
This product comes from Highwaygames.com
---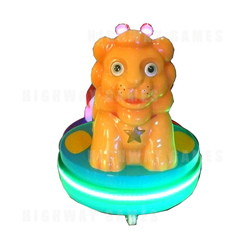 The Lion kiddy ride is an arcade and amusement machine from the Happy Animal series by Tommy Bear. It allows much younger players to be a part of the fun at an amusement location.

Players sit on the back of the animal with feet firmly on the place marks on either side of the platform, insert a coin and let the kids ride. There are two modes of play with the Happy Animal kiddy rides - stationary and bumper ride.

If the machine is stationary, it will rock back and forth, which is much more appropriate for the younger children. However, if the machine is in bumper play mode, kids can you the dual joystick control system to move their ride around the floor, chasing down other players. This is much more fun and exciting, while still very safe, for the older children.

The controls work as follows:


TO GO FORWARDS - push both joysticks forwards.
TO GO BACKWARDS - pull both joysticks back towards you.
TO GO RIGHT - push the left joystick forward and pull the right joystick back at the same time.
TO GO LEFT - push the right joystick forward and pull the left joystick back at the same time.



Features:


Bright LED lighting
Very fun happy music for kids to enjoy
11 section time setting (30 seconds per section)
Two modes of play - stationary and bumper ride
Rubber Cable Protector for extra safety

Specifications:


DC 12V-36AH
Automatic battery recharger
---
The URL for this product is:
https://www.highwaygames.comhttps://www.highwaygames.com/arcade-machines/happy-animal-lion-arcade-machine-16579/

Copyright © 1999 - 2022, Highwaygames.com All Rights