Happy Zoo DX
This product comes from Highwaygames.com
---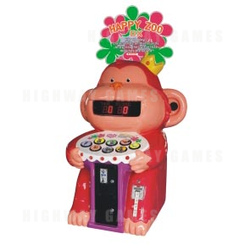 Happy Zoo DX is a ticket redemption machine for children which aims to improve the player's knowledge and reactions. The machine plays an animal sound, with the player needing to press the corresponding button before time runs out.

There are eight different sounds that can be played including dog, bird, monkey, elephant, cat, duck, chicken and horse. The machine will let the child know if it is the correct answer.

The machine is shaped like a monkey with a LED screen for a mouth. The control panel features big buttons with pictures on them, and to play children select the right button. At the end of the game tickets are awarded depending on the amount of correct answers.

---
The URL for this product is:
https://www.highwaygames.comhttps://www.highwaygames.com/arcade-machines/happy-zoo-11006/

Copyright © 1999 - 2022, Highwaygames.com All Rights