Harley Davidson Pinball (1999)
This product comes from Highwaygames.com
---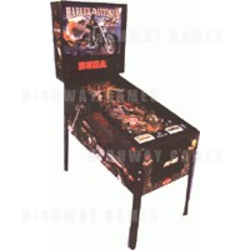 With the theme of ever-popular Harley Davidson Motorcycles, this pinball features the authentic Harley Davidson engine sounds and offers three different multiball modes:


FLSTS Heritage Springer Motorcycle Ball Lock - does a wheelie, allowing players to lock balls for explosive 4 ball Motorcycle Multiball.
3 Dimensional Molded Stoplight - complete playfield stoplights to light up the 3D stoplight for Redlight Multiball.
Speedometer Ramp - the ramp shots display the ball speed. Shoot the ramp to complete gears and light the speedometer for Speedometer Multiball.

Note: Production of this game was continued from the original by Sega Pinball.



Feel the shaker motor rumble as you take off down the road.
Electro up - a post stops the balls exiting between flippers.
Classic Rock and Roll riding music.
Four Pop Bumpers and Eight Classic Drop Targets, along with lots of other mechanical devices
---
The URL for this product is:
https://www.highwaygames.comhttps://www.highwaygames.com/arcade-machines/harley-davidson-pinball-7810/

Copyright © 1999 - 2022, Highwaygames.com All Rights