Harley Davidson Third Edition Pinball (2005)
This product comes from Highwaygames.com
---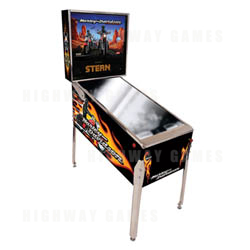 Harley Davidson Third Edition Pinball boasts such replica motorcycles as the 1999 FLSTF Fat Boy 1/10 scale, the 2000 FLSTF Fat Boy 1/18 scale, and the 2001 FLSTS Heritage Springer 1/18 scale.

The pinball machine offers three multiball modes. When the 1999 FLSTF Fat Boy Motorcycle Ball Lock does a wheelie, it allows players to lock the explosive 4-ball Motorcycle Multiball. If the player completes this, the playfield stoplights to light the 3-D stoplight for Red Light Multiball. Players can then shoot the ramp to complete gears to light speedometer for Speedometer Multiball.

This pinball features chrome trim on the legs, side armor, lockdown bar and backbox hinges.

---
The URL for this product is:
https://www.highwaygames.comhttps://www.highwaygames.com/arcade-machines/harley-davidson-third-9070/

Copyright © 1999 - 2022, Highwaygames.com All Rights