Hello Kitty Air Hockey Table
This product comes from Highwaygames.com
---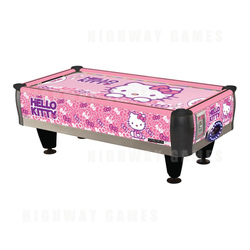 Hello Kitty Air Hockey Table is a kiddie arcade machine that brings one of the worlds most recognisable characters, HELLO KITTY, to the arcade with this cute air hockey game just for the kids!

Using this two player sports table, players stand at each end and try to score more goals than one another in the time limit by wacking the hockey puck with their paddles, back and forth, till someone makes a goal!

The cabinet features LED scoring and timer on play field, and the play field itself has been made scratch resistant for kids can play on it all day worry-free!

The Hello Kitty Air Hockey Table also features a ticket redemption option, or you can leave it as a play for fun machine! Either way, kids of all ages will love this thirlling sports table.

The bright pink table is designed for kids, so it has a smaller footprint allowing it to fit into a wider variety of locations. However, it's bright pink cabinet art design makes sure that the tables stands out in any location, drawing in players from all across the floor.


---
The URL for this product is:
https://www.highwaygames.comhttps://www.highwaygames.com/arcade-machines/hello-kitty-air-hockey-table-17183/

Copyright © 1999 - 2022, Highwaygames.com All Rights