High Five Arcade Machine
This product comes from Highwaygames.com
---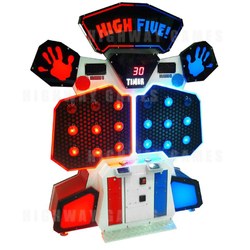 High Five uses a similar style of game play to Speed of Light, but is a ticket redemption arcade machine designed for kids and younger players.

"Double your adrenaline with a hand-slapping good time at the pint-sized version of Speed of Light."

Kids go head to head in this fast-paced, hand slapping game, trying to make as many high fives as possible.

The aim of the game is for players to 'high five' the lights as they come on, as fast as they can, to win points and tickets.

The cabinet uses a smaller footprint, and allows two players to play at the same time - and each gets their own individual ticket payout! The cabinet also feature bright LED lighting and fun 'slap' sound effects.

The game has multiple operator adjustable settings, such as game time and tickets, allowing operators to customise the machine to their specific location to get the most out of their machine.

This fun and exciting game is suitable for young players of all ages and will draw in players from all across the floor, with it's big flashy light, bright cabinet, and funny slap sounds.

---
The URL for this product is:
https://www.highwaygames.comhttps://www.highwaygames.com/arcade-machines/high-five-17227/

Copyright © 1999 - 2021, Highwaygames.com All Rights