HipHopMania
This product comes from Highwaygames.com
---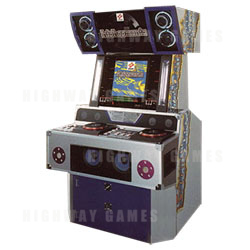 Hiphopmania is an American version of the original Beatmania. Players can choose their own style of music: Hip Hop, Reggae, Techno, Rave, Break Beat, or Soul. Hiphopmania also features Practice, Battle & Expert Modes.

Players take on the role of a DJ and use the turntable and keyboard controls to 'scratch' and 'turn' in time with the music. The game can be played by two players simultaneously, with a separate keyboard and turntable for each player.

The gameplay involves the player selecting a song, with the player then having to match the notes by pressing the keys and scratching the turntable in time with the music. Each game consists of a set number of songs of various difficulties, and each song must attain a certain degree of satisfaction from the audience in order to progress to the next.

---
The URL for this product is:
https://www.highwaygames.comhttps://www.highwaygames.com/arcade-machines/hiphopmania-6760/

Copyright © 1999 - 2022, Highwaygames.com All Rights