Hokey Cokey
This product comes from Highwaygames.com
---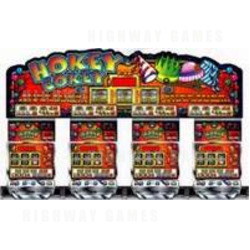 4 machines linked together featuring Narrow reel casino machine design with an independent control system where players can, at random, and in turn, play on top feature game.

Options available: 20p, 25p, 30p stake: £5, £8, and £15 Prize. Standard features include hold, hold after nudge, 3 holds and holds after win. Each base game can be played by auto-play.

At random, the top game becomes active for one of the players. The top reels spin and stop on a 3 of a kind win. The feature then continues over a number of games on a 50:50 basis. The feature ends on a losing spin.



Machine is designed for the UK.
---
The URL for this product is:
https://www.highwaygames.comhttps://www.highwaygames.com/arcade-machines/hokey-cokey-8689/

Copyright © 1999 - 2021, Highwaygames.com All Rights