HopStar Arcade Machine
This product comes from Highwaygames.com
---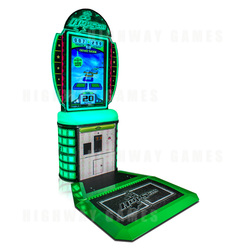 HopStar Arcade Machine is a ticket redemption video game from Bay Tek which uses game play based off the old sidewalk game, Hop-scotch.

With its interactive, skillful game play, bright, colorful cabinet and the durable infrared hop pad, HopStar is a must-have for all game rooms.

Coin up and hop as far as you can on the hopscotch course in a set amount of time. The player-paced hop detection allows you to challenge yourself to improve— the faster you hop, the farther you get! You can even add time to your game by hopping on the bonus time clocks.

The variety of 3-dimensional courses on the 42" screen provide new challenges for every game. The progressive jackpot feature, course time and difficulty controls are adjustable in the operator menu, making the game a perfect fit for any location.

---
The URL for this product is:
https://www.highwaygames.comhttps://www.highwaygames.com/arcade-machines/hopstar-arcade-machine-17105/

Copyright © 1999 - 2021, Highwaygames.com All Rights