House of the Dead 4 Special
This product comes from Highwaygames.com
---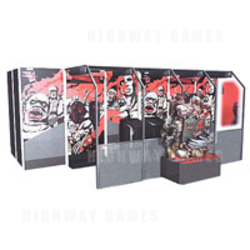 House of the Dead 4 Special is a simulated zombie experience, and is part of Sega's range of super deluxe attraction cabinets. The game also includes a new storyline and new characters.

The cabinet features a 270 degree pivot seat which spins up to 2-players while they fight against attacking zombies from the front and the back. The seat rotates clockwise and counter-clockwise randomly, and players can shoot at the screens while in motion.

The cabinet is designed with 2 opposite 100AGA Projector Screens accompanied with surround sound. House of the Dead 4 Special also has an air blast and vibration seat feature which further immerses the player in the action.

The sub-machine gun in House of the Dead 4 has a sensor that determines when the gun is being shaken, shake the gun in order to escape enemies or situations. The gun can also be reloaded when shaken.

---
The URL for this product is:
https://www.highwaygames.comhttps://www.highwaygames.com/arcade-machines/house-the-dead-9178/

Copyright © 1999 - 2022, Highwaygames.com All Rights