Hyper Drive
This product comes from Highwaygames.com
---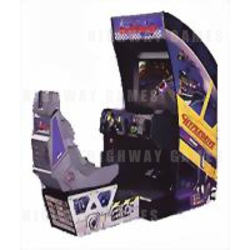 Hyperdrive transforms players into stock car racers in the year 2100, and there have been some big changes since the 20th century. Stock cars in the 22nd century have evolved into Advanced Racing Crafts (ARCs), and drivers now have to be pilots - because these crafts can fly. Its no longer enough to pass on the left or right - you can go above or below other crafts in the quest to be the first to cross the finish line. Speed is still the critical element to winning the race, and the key to speed in Hyperdrive is staying low. The closer to the track you are, the faster your craft will fly!

There are four main tracks with a variety of challenges and obstacles. Each track has shortcuts and green boost zones that provide a major jolt of speed at critical points in the race. Pilots try to align the craft just right in the boost zones to gain the maximum advantage. Hitting the boost zones while navigating tight turns, bumping other racers and staying low to the track to maximize speed make for a challenging, intense racing experience.

Hyperdrive features an advanced technology flight controller never before used in an arcade game. The controller allows full 360 degrees of movement for the crafts. There are even two yellow air brakes on the controller that allow players to perform advanced maneuvers like power slides and barrel rolls.



31" Cabinet also available H74 X W31 X D78inches

H188 X W79 X D198 weight 475lbs(215kgs)

4 ships

3 tracks

Link up to 4 units
---
The URL for this product is:
https://www.highwaygames.comhttps://www.highwaygames.com/arcade-machines/hyper-drive-6247/

Copyright © 1999 - 2022, Highwaygames.com All Rights