i-Hockey Arcade Machine - Ice Model
This product comes from Highwaygames.com
---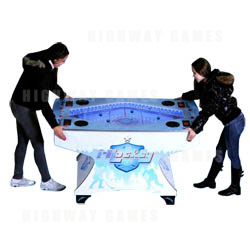 i-Hockey Ice is an arcade machine table with an ice inspired theme. Gameplay is similar in concept to an Air Hockey Table, however in i-Hockey players use buttons to control Left/Right Flippers, and attempt to flick small balls into their opponents goal.

Players can control the flippers by using the buttons located on the side of the table, or alternatively by using the buttons on the top of the control panel. There are a number of balls on the playfield at a time, making sure action is fast and frenetic. Balls automatically launch back onto the playfield after a goal has been scored.

The machine has eye-catching blue LED lights around the playfield, and is suitable for all ages.


Features:


Exclusive Game: unique in the market;
Outstanding ice design with frozen field and a funny penguin audience;
Great music and sound effects;
Bright LED's flashing with lighting effects in the game field draw the attention of everyone;
Super LED Displays show time and score, and an extra LED display shows credits;
Operated by coin, token or smartcard for easy collection;
Integrated wheels for easy transportation.
---
The URL for this product is:
https://www.highwaygames.comhttps://www.highwaygames.com/arcade-machines/i-hockey-ice-arcade-machine-11130/

Copyright © 1999 - 2021, Highwaygames.com All Rights