Jubeat Copious APPEND Arcade Machine
This product comes from Highwaygames.com
---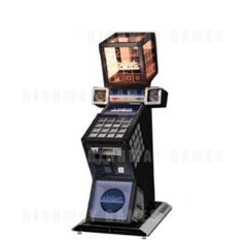 Jubeat Copious APPEND Arcade Machine is an extended version of the jubeat copious arcade music video game developed by Konami Computer Entertainment Japan, and is a part of Konami's Bemani line of music video games.

The cabinet utilizes a total of 17 screens, with 16 of them arranged in a 4 x 4 grid used to play the game. Jubeat Copious Music Arcade Machine is a music game where players must correctly hit the panels that match appears on the screen.

Jubeat Copious APPEND Arcade Machine is the extended fourth version in the popular Jubeat series released by Konami; the game play has the "Lincle Link" function with Beatmania IIDX 19: Lincle, and includes total more than 210 songs and over 57 new songs.

This machine plays in simply touch on the 4x 4 shiny grids panel to match the rhythm. Player is up to nine times from 1.5 times to earn a challenging four tune points to win the hidden song.


• New Songs: 35
• Total Number of Songs: 238
• Jubeat Copious and Beatmania IIDX 19 Lincle were released the same day in Japan. This is one of the few times two BEMANI arcade games are released the same day.
• The unlock system is called copious travel. Players use Achievement Points to "travel" to the respective song unlocks. There are also random UFO encounters along the way that unlock new markers, title parts and old locked songs.


---
The URL for this product is:
https://www.highwaygames.comhttps://www.highwaygames.com/arcade-machines/jubeat-copious-append-arcade-machine-16199/

Copyright © 1999 - 2020, Highwaygames.com All Rights