Jubeat Qubell Arcade Machine
This product comes from Highwaygames.com
---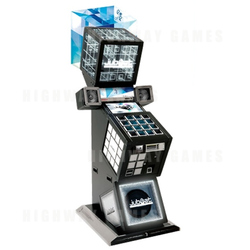 Jubeat Qubell Arcade Machine is a music arcade game machine where players must correctly hit the panels that match the notes that appear on the screen.

This music video game was developed by Konami and is the 2016 release from the Bemani Jubeat series. The cabinet utilizes a total of 17 screens, with 16 of them arranged in a 4 x 4 grid button panel used to play the game.

Changes to the game include the following:


A new unlocking method, dig dig Qubell, is introduced. dig dig Qubell is jubeat Qubell's main unlocking system, allowing players to unlock new and old songs alike.
All the TRY game modes (COURSE and ARENA) and the MORE and EXPERT options have been removed at launch again. There is currently only a single game mode (3TUNES + BONUS TUNE) paid by credits or PASELI.
The design of the Hold Markers have been modified.
The CONCIERGE button from jubeat knit is revived, and contains new options.
There is now an option to continue playing after a game, the first jubeat game to do so.

This is a new game, more information to appear as it becomes available.

---
The URL for this product is:
https://www.highwaygames.comhttps://www.highwaygames.com/arcade-machines/jubeat-qubell-arcade-machine-17314/

Copyright © 1999 - 2021, Highwaygames.com All Rights