Jubeat Ripples Arcade Machine
This product comes from Highwaygames.com
---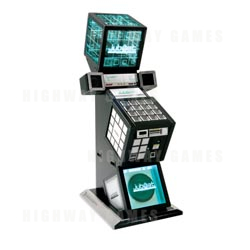 Jubeat ripples Arcade Machine is the second game in Konami's music rhythm game series. The cabinet features a 4x4 grid of touchscreen square panels. These panels light up, and players must use their hands to touch the panels in time with the music. New to this version is a tournament function and a new "grade-up" system.

The cabinets can be linked for local play, with up to 4 players able to compete at a time. e-AMUSEMENT support is also included, allowing players to compete over the internet. Registered e-AMUSEMENT PASS holders can hold tournaments to compete with other players who signed up on the e-AMUSEMENT site in advance.

Other changes in this version include the specific requirements for "CLASS-UPs" and hidden contents have been replaced with gaining a specific amount of grade points; the tune selection screen allows different "sorting" preferences, including: difficulty, BPM, rating, score; and additional background colours and markers (some to be unlocked by grade-up).

---
The URL for this product is:
https://www.highwaygames.comhttps://www.highwaygames.com/arcade-machines/jubeat-ripples-arcade-machine-10361/

Copyright © 1999 - 2020, Highwaygames.com All Rights