Jurassic Park Arcade Deluxe Motion Edition Machine
This product comes from Highwaygames.com
---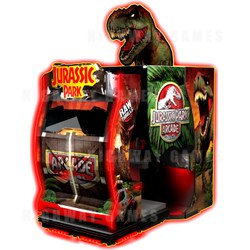 Jurassic Park Arcade Deluxe Motion Edition Machine is a gun shooter, motion simulation game from Raw Thrills in which 1-2 players are seated inside a theater cabinet and battle the infamous dinosaurs of Jurassic Park.

The game is based on the hit movie franchise, joining a line up of out of home entertainment games, and has nine amazing stages for players to explore and over 30 dinosaur species to find!

Players rescue the cloned dinosaurs who are running amok in the Jurassic wildlife adventure park! Players will use their high-powered, force-feedback "tranquilizer guns" to subdue and help save 30 species of the menacing, cloned dinosaurs, running loose across "Isla Nublar" while attempting to restore order to Jurassic Park.

The Jurassic Park Arcade Deluxe Motion Edition Machine features the THRILL-D Full Motion Simulator Experience, along with a massive 55" HD LED Widescreen Display, enhanced Gun System and brilliant Cabinet Lighting with over 1000 LED Lights which are synchronized with in-game actions, and the extremely eye-catching and gigantic sized T-Rex Dino Marquee Topper, along with nine exciting and frantic levels of dinosaur chasing action in Jurassic Park Arcade DX.




Features:

▪ THRILL-D Sound System With Seat Shaker!
▪ Over 1000 Eye-Catching Color-Shifting LED's!
▪ 3 Foot Tall Giant T-Rex Attraction Topper!
▪ 9 Action Packed Game Levels!
▪ Over 30 Dinosaur Species!
▪ Based On The Hit Movie Franchise!
▪ 5 Giant Jurassic Park Gates With Logo!
▪ 55" High Definition LED Flat Panel Monitor!
▪ 9 Exciting, Action Packed Jurassic Park Missions
▪ 2 "Non-Lethal" Force Feedback Tranquilizer Guns
▪ LED Cabinet Lighting Synchronized With Game Actions!

---
The URL for this product is:
https://www.highwaygames.comhttps://www.highwaygames.com/arcade-machines/jurassic-park-arcade-deluxe-motion-edition-machine-16987/

Copyright © 1999 - 2021, Highwaygames.com All Rights