Kart Duel DX
This product comes from Highwaygames.com
---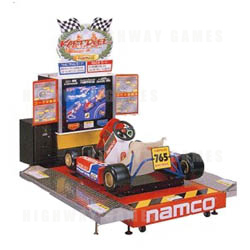 To increase the competition levels in 2 player mode, Namco has introduced the new "continue system" where the losing driver has to pay for the next continuing play. In addition, 1 free game is given per 4 continuous rounds of 2 player play.

The competition is also increased with players competing each lap time. When a player marks his or her best lap, their position in the top 100 rankings will be displayed on screen during the race.

When a player finishes the race within the regulation position, they can go on to the next circuit. When all the circuits are cleared, the player can challenge the best racer from Namco's R&D staff.

There are a choice of 4 circuits (3 of the circuits are based on actual tracks) to suit the individual's skill level and players can select their kart to suit each circuit, strategy and driving style. The DX cabinet has a motion base which moves from side to side responding quickly to handling and road service conditions.

---
The URL for this product is:
https://www.highwaygames.comhttps://www.highwaygames.com/arcade-machines/kart-duel-7084/

Copyright © 1999 - 2021, Highwaygames.com All Rights