Kiddy Dido Air Arcade Machine
This product comes from Highwaygames.com
---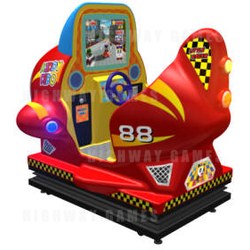 Kiddy Dido Air Arcade Machine is an interactive ticket redemption kiddie ride and video game designed for young players.

Injoy Motion's lastest simulator ride brings adorable animal creatures and interesting racing tracks from their Dido Kart game, and added more collectable items for more points! All mof which is displayed on a 17 inch High Definition LED monitor with 3D graphics!

These extra points can be redeemed by the kids as tickets and these ticket winnings are completely operator adjustable.

The Kiddy Dido Air race track takes players about six minutes in total to finish, and players always are able to see new things when continuing play.

The game also features new "Music Notes" Function! Once players collect enough music notes, the machine plays a special song and also gives out bonus tickets to the lucky rider!

This moving, racing and musical game is a hit among the younger players and stands out in the middle of any location with it's bright red car cabinet. Kiddy Dido Air arcade machine will draw in players from all across the floor.


---
The URL for this product is:
https://www.highwaygames.comhttps://www.highwaygames.com/arcade-machines/kiddy-dido-air-arcade-machine-17305/

Copyright © 1999 - 2022, Highwaygames.com All Rights