King of Treasures Plus Arcade Game
This product comes from Highwaygames.com
---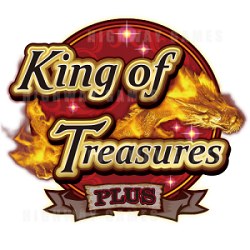 The King of Treasures Plus Arcade Game is the long awaited English version sequel to the hugely popular video redemption, fish hunting game, King of Treasures.

Changes to the game play include the introduction of the new Fire Dragon character: a huge and super tough dragon character that will take the collective fire power of all the players to take down and is worth 200~500 credits!

The game has also added a new gun to the arsenal, called the Homing Missile Gun, which locks onto the biggest fish on the playfield (with the exception of the Fire Dragon) and can be accessed by pressing and holding the joystick upwards. Player will now also have the option to cancel their gun station and keep their Machine Gun weapon too!

The other characters that can be found in the King of Treasures Plus arcade game includes Clown Fish, Flounder, Spearfish, Butterfly Fish, Devilfish, Lionfish, Lantern Fish, Saw Shark, Fugu, Lobster, Snapper, Shark, Octopus, Sea Turtle, Killer Whale, Humpback Whale, Explosive Crab, Roulette Crab and Laser Crab!

King of Treasure Plus arcade game is layered with exciting mini games, which take this simple and straight forward game play and switches it up, forcing players to think strategically and quickly! These game include:


Lightning Chain - a fish effect that will capture other fish on the playfield caught in the chain. While it doesn't affect all fish, it does affect Spearfish, Clown Fish, Butterfly Fish, Snapper, Lionfish, Flounder, Fugu, Octopus and Lobster.
Vortex Fish - another fish effect that will draw fish of the same kind into a whirlpool to catch them for the player.

The usual crab mini games include the Explosive Crab (explodes when caught), Laser Crab (awards the player with a laser gun with one shot) and the Roulette Crab (enters the player into the Golden Roulette mini game).


THE UPGRADE KIT

King of Treasures Plus arcade game is available as an upgrade kit, perfect for taking your old King of Treasures or Ocean King 6 player or 8 player cabinets and upgrading to the next English Version arcade fish hunting game! The number of players is adjustable via the game board.

The game features 3D rendered graphics, the familiar and beautiful oceanic theme, and game play loaded with features to keep players engaged and coming back time and again!


ARCADE CABINETS

The King of Treasures Plus arcade game is available in two 6 player cabinet models, one with a 32" LCD monitor and the other with a 58" LCD monitor, and another 8 player cabinet model with a 58" LCD monitor.

All cabinets come with multiple input and output configurations, including Key In/Key Out which is an operator controlled function allowing the owner to control the flow of credits in and out of the machines; Coin In/Coin Out; Ticket Redemption Out; Thermal Printer Out; and Note/Bill Acceptor In.

The above configurations are all available to operators, allowing them to customise each machine to the needs of their location and their players, and is an integral to the success of the King of Treasures games and the reason to why this English version series is an incredible income generator.

There are also vending / profit sharing options available for US customers. For more information about purchasing the latest English version King of Treasures Plus arcade game, upgrading your old cabinet, or possible vending options, please email sales@highwaygames.com.



Specifications:


King of Treasures 32″ 6 Player Arcade Machine - 85cms/33.4inches W x 116.5cms/45.8inches D x 84cms/33inches H
King of Treasures 58″ 6 Player Arcade Machine - 180cms/70.8inches W x 110cms/43.3inches D x 70cms/27.5inches H
King of Treasures 58″ 8 Player Arcade Machine - 190cms/74.8inches W x 115cms/45.2inches D x 85cms/33.4inches H
---
The URL for this product is:
https://www.highwaygames.comhttps://www.highwaygames.com/arcade-machines/king-treasures-plus-arcade-game-17285/

Copyright © 1999 - 2022, Highwaygames.com All Rights