Lucky Numbers Arcade Machine
This product comes from Highwaygames.com
---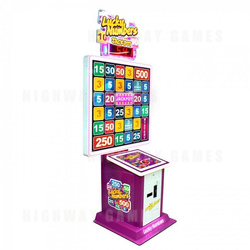 The Lucky Numbers Arcade Machine is a start-stop ticket redemption arcade game which will test players hand-eye coordination skills and reward them for their efforts.

The aim of the game is for players to use the button control to start the light flashing across the screen and to stop it when it lands on the number they want. To win the largest amount of tickets, players must aim to hit the Jackpot!

The cabinet is a large LED illuminated machine, made for durability and reliability, while the game is designed with intuitive and addictive game play in mind, with simplicity at it's core.

This bright and attractive cabinet will draw in players from all across the floor, while the simple and addictive game play will keep players coming back for more chances to win. Lucky Numbers is suitable for a wide variety of venues, such as street locations and Family Entertainment Centers.

---
The URL for this product is:
https://www.highwaygames.comhttps://www.highwaygames.com/arcade-machines/lucky-numbers-17232/

Copyright © 1999 - 2021, Highwaygames.com All Rights