Megaman/Rockman EX BattleChip Stadium
This product comes from Highwaygames.com
---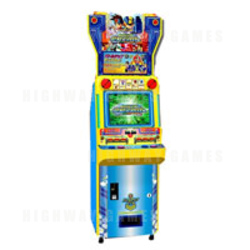 Players can control Megaman just like Lan does in the hit cartoon Megaman NT Warriors. You can power up Mega Man or other Net Navis with battle chips. These chips are colour coded for things like attack and defense.

Once inserted into the machine the Net Navis, gain this item/weapons and it is displayed on screen. Players then attack each other in an attempt to gain Net supremancy. Results of the battle are displayed on screen and the player gains experience to level up their Net Navi.

The game features many tie in products from game boy advance games and accessories to hand held systems of the game. Also more battle chips can be purchased by the player to boost their character.

---
The URL for this product is:
https://www.highwaygames.comhttps://www.highwaygames.com/arcade-machines/megaman-rockman-battlechip-stadium-9189/

Copyright © 1999 - 2021, Highwaygames.com All Rights