U2 Mirage
This product comes from Highwaygames.com
---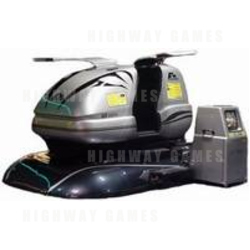 The U2 Mirage is a 2-seater simulator. The machine has a small price, footprint and running cost, with high return, reliability and lifespan.

It features a fully darkened enclosure, gull-wing doors, hydraulic motion base, coin operated and a choice of six rides guaranteeing repeat business.



Fully darkened enclosure
Gull-wing doors
Hydraulic motion base
Coin operated
Choice of six rides

ELECTRICAL SPECIFICATION:


The simulator requires a 3-phase supply which is 380V-415V (3 phases + neutral + earth) at 16A per phase 50Hz. The connector supplied with the simulators mates with a 32A (3 pole + neutral + earth) industrial socket.

VISUAL SYSTEM:


The internal display consists of wide screen format 36" SVHS monitor. The external display is a 14" monitor situated in the point of sale unit.

AUDIO:


Surround sound through front and rear speakers with sub woofer.

MOTION BASE:


Hydraulic powered R1CO motion base provides three degrees of freedom on three axis. The three degrees of freedom are pitch, heave and roll.

WEIGHT:


The simulator weighs 1014 kg. However when sited the weight will be multiplied by three due to the force of motion.

OPERATIONAL SIZES:

Length : 3996 mm Width : 2997 mm Height : 2991 mm

---
The URL for this product is:
https://www.highwaygames.comhttps://www.highwaygames.com/arcade-machines/mirage-8801/

Copyright © 1999 - 2022, Highwaygames.com All Rights