Monkey Ball
This product comes from Highwaygames.com
---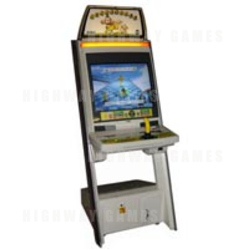 The game is cute, simple and powerfully addictive. Monkey Ball puts players in control of what else? A cute little monkey trapped in a transparent ball. Geared to anyone, who likes having fun, Monkey Ball challenges 1 to 4 players to maneuver a ball by tilting the floor quickly with the control panel. The more that you tilt, the faster the ball rolls, and it's your job to get the ball safely from the beginning of each stage to the end without letting it fall off edges. Of course, being a game about a monkey in a transparent ball, there was only one thing to use as a control panel. Yes, you've guessed it; the joystick is in the shape of a banana. Whilst you are controlling the monkey through each stage, make sure that you run into a few of the on screen bananas to boost your score and extra bonus points. But be careful if you are too greedy then it could be "Asta la Vista" for you.

Powered by Naomi 1,this game will be available in the widely acclaimed Naomi Universal cabinet as well as in kit form. Colourful graphics, bright upbeat music and challenging gameplay with an adorable monkey (in a ball !!) will appeal to the female market. The infuriatingly easy to control, but difficult to master gameplay will make even the hard core game player an addict. Competitive game play over 4 levels and a 190 stages

(Beginner, Advanced, Professional and Master levels plus hidden bonus stages) make this the Pac Man for the year 2001.

---
The URL for this product is:
https://www.highwaygames.comhttps://www.highwaygames.com/arcade-machines/monkey-ball-8176/

Copyright © 1999 - 2021, Highwaygames.com All Rights