Monster Bowling Arcade Machine
This product comes from Highwaygames.com
---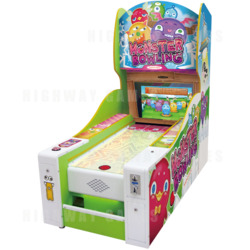 Monster Bowling Arcade Machine is a virtual bowling game in a classic skeeball cabinet and in this game player shave to try and knock over the monster to win tickets!

The cabinet features a skeeball or mini-bowling ball lane and at the end of this is the LCD screen which shows the monsters lined up like bowling pins.

There are three game play modes which have varying numbers of rounds. So for quick games, you can do a 3 round game. For something a bit longer you can do a 5 round game and for a full game you can do 10 rounds!

This bright and exciting game will draw in players from all across the floor, and is na innovative mix of physical and virtual gaming.

---
The URL for this product is:
https://www.highwaygames.comhttps://www.highwaygames.com/arcade-machines/monster-bowling-arcade-machine-17102/

Copyright © 1999 - 2022, Highwaygames.com All Rights