Monster Drop Ticket Redemption Machine
This product comes from Highwaygames.com
---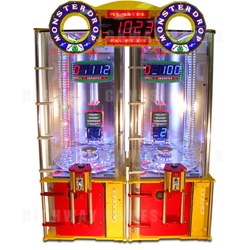 Monster Drop is a fun and exciting ticket redemption machine from Benchmark Games. Time the drop of the high energy ball so it falls through the JACKPOT, the MYSTERY VALUE, or TICKET WIN VALUES to score tickets!

Even if you miss, the ball bounces and careens around before dropping in a hole, so you win every time! If a ball drops in an ADD BONUS BALL hole, balls are reserved until, if you make it in a DROP BONUS BALLS hole, it's a multi-play extravaganza!

Bounce a ball up onto the platform and into the MONSTER JACKPOT hole and
win a huge cumulative JACKPOT!

Monster Drop's brightly lit cabinet and simple and fun gameplay attracts players from all across the floor.


Features:

Two Jackpots - a wheel hole Jackpot and also a cumulative Monster jackpot on a raised platform, each with a huge L.E.D. display.
Long-life L.E.D lighting and dynamic sound.
Standard 18,000 Capacity Ticket Drawers (x2 on 2-Player version = 36,000).
Standard Intelli-Triple Ticket Dispensers.
Operator adjustable game parameters.
1-Year "Top to Bottom...Front to Back... It's All Covered" Warranty.
Dimensions for Single Player Cabinet : 33"W x 35"D x 84"H
Dimensions for 2 Player Cabinet: 67"W x 40.25"D x 93"H (the two player cabinet is featured in the dimensions).
---
The URL for this product is:
https://www.highwaygames.comhttps://www.highwaygames.com/arcade-machines/monster-drop-ticket-redemption-benchmark-games-16190/

Copyright © 1999 - 2022, Highwaygames.com All Rights