Monster Factory Arcade Machine
This product comes from Highwaygames.com
---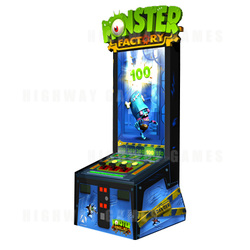 Monster Factory Arcade Machine is a single player, ticket redemption game in which players must become a mad monster breeding scientist - match the parts and win tickets!

The cabinet features vibrant and exciting cabinet art, LED lighting, a giant 65" vertical LCD screen, dual ticket dispensers, and unique game play controls!

This is a quick, easy to understand matching puzzle game. Players simply use the levers to choose a body part (legs, torso and head, with a lever corresponding to each part) then use the buttons to make a selection. If the monster created by the player is a perfect match they will win a big reward for their efforts!

In this game, there are approximately 125 monster mash up possibilities, so players will get plenty of fun out of this game every time they play.

Monster Factory arcade machine cabinet uses quite a small footprint, so it is able to fit into a wide variety of gaming areas, such as smaller street locations and large Family Entertainment Centers. Although it's small, this cabinet with it's bright and vibrant lighting and artwork will stand out on any floor, while the fun and addictive gameplay will draw in players from every corner of the room.

---
The URL for this product is:
https://www.highwaygames.comhttps://www.highwaygames.com/arcade-machines/monster-factory-arcade-machine-17067/

Copyright © 1999 - 2021, Highwaygames.com All Rights