MotoGP Arcade Machine
This product comes from Highwaygames.com
---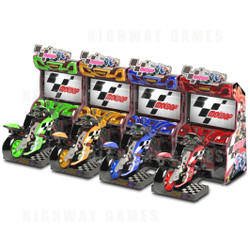 MotoGP™ Arcade Machine is a motocycle simualtor video game from Raw Thirlls and Play Mechanix, and is an officially licensed MotoGP product.

The single player cabinet features an authentic "MotoGP-style" motorcycle mount and is available in four different color schemes. The MotoGP licensed racing gameplay is displayed on a stunning 42" High Definition LCD Display equipped with a Front-Facing Face Camera that puts players and their friends in the game!

Much like MotoGP itself, this game is designed for competition with up to 8 riders able to go head to head, between both the local and online multiplayer modes. The competitive element to play against real people, and not just a computer, add an extra element of excitement for players!

Fans of MotoGP will be pleasantly surprised with the very faithful recreations of famous MotoGP circuits from around the world, and the game comes with three difficulty levels - Novice, Normal and Pro - to challenge players of all skill levels.

To play, join one of the 13 MotoGP teams as a newcomer and race against famous riders like Valentino Rossi, Marc Marquez, Jorge Lorenzo, Dani Pedrosa and more, to work your way up the ranks.

The cabinet also features a Front-Mounted Fan for realistic wind simulations, ability to race head-to-head between all units/game locations, and online stat tracking, make this a unique machine that will really stand out in any location!

---
The URL for this product is:
https://www.highwaygames.comhttps://www.highwaygames.com/arcade-machines/motogp-17223/

Copyright © 1999 - 2021, Highwaygames.com All Rights