Naomi Universal DX
This product comes from Highwaygames.com
---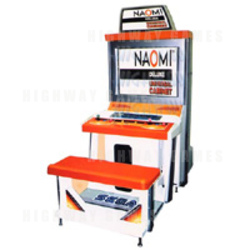 The Naomi Deluxe Universal Cabinet was developed specifically for the European market. The machine is compatible with the JVS standard and accepts all Naomi joystick / button games.

The Cabinet features a high-resolution 38 inch CRT monitor. The monitor gives the player the same visual perspective as a 50 inch PTV with the advantage of no 'screen burn'.

The cabinet features sleek metal design styling to compliment the existing highly popular Naomi Universal Upright cabinet. The machine also boasts high quality player-directed speakers, universal player controls and easy to access maintenance areas. The machine is also designed to fit Naomi headers and player instructions.

---
The URL for this product is:
https://www.highwaygames.comhttps://www.highwaygames.com/arcade-machines/naomi-universal-9084/

Copyright © 1999 - 2022, Highwaygames.com All Rights