NBA Showtime/ NFL Blitz 2000
This product comes from Highwaygames.com
---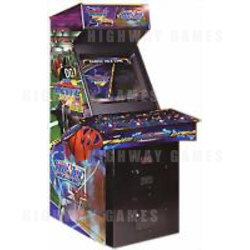 This 4 player machine features both the NBA Showtime: NBA on NBC and the NFL Blitz 2000: Gold Edition sports games in the one unit.

NBA Showtime: NBA on NBC is a 2 on 2 basketball game that was modeled on the NBA presentations on the NBC network. The game features a player creation tool as well as popular NBA personalities (with real voices and moves), instant replays, secret moves and half time stats.

Players can choose two players from any NBA team's starting line-up for the first half and choose again for the second half. If a player makes three consecutive shots, they become "on fire" which allows them to easily make shots from almost anywhere on the court, goal tend without penalty and push opponents without being fouled.

NFL Blitz 2000: Gold Edition is an American football game featuring the teams of the National Football League. The game features easy to learn game play that includes a new "Blitz-passing" move for one-touch long bombs and an "On fire" mode that gives players enhanced abilities for a limited amount of time.

The game also includes enhanced weather effects such snow, rain and wind and new animations for taunts, end zone dances and tackles.



Available as a complete unit or as an upgrade kit for an existing machine.
---
The URL for this product is:
https://www.highwaygames.comhttps://www.highwaygames.com/arcade-machines/nba-showtime-nfl-blitz-6204/

Copyright © 1999 - 2022, Highwaygames.com All Rights