Need for Speed Arcade Machine
This product comes from Highwaygames.com
---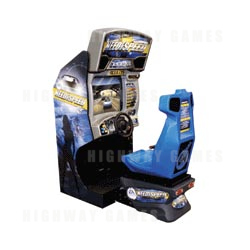 Need For Speed, an arcade racing machine, puts players in top high-performance cars such as the 450-horsepower Dodge Viper GTS, the nimble Lotus Elise, the BMW Z8 and the Z06.

With a mix of high-end American muscle and top European exotics, Need For Speed has cars that will appeal to all players. Need For Speed features a player-selectable difficulty system that provides easier handling for beginning players and more challenging realistic driving physics for experienced drivers.

The driving experience is further heightened with 6-speaker surround sound and force feedback steering. Need For Speed is linkable, allowing blistering head-to-head competition for up to 4 players.

Need For Speed will be the first coin-op driving game that is supported with regular updates and a national tournament system launching early next 2004. Tournaments are not sponsored or administered by Electronic Arts. Players can look forward to updates that will include new exotic cars from manufacturers like Lamborghini, Porsche and Aston Martin, plus new tracks and play features.

---
The URL for this product is:
https://www.highwaygames.comhttps://www.highwaygames.com/arcade-machines/need-for-speed-arcade-machine-8908/

Copyright © 1999 - 2022, Highwaygames.com All Rights