Neon Air Hockey Table
This product comes from Highwaygames.com
---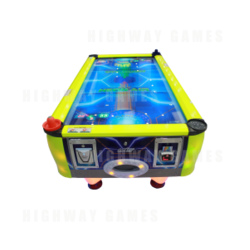 The Neon Air Hockey Table is a classic sports orientated game table that has been revamped and designed in a smaller size that is perfect for kiddies!

The Neon Air is super colourful to attract players in from all across the floor, plus it's small design means it can fit into a wide range of locations from small street location to full scale Family Entertainment Centers.

This game doesn't only fit into tight spaces, but also looks amazing in darker rooms, as the play field changes its color throughout the game. The score counters embedded into the play field add additional flair.


This fun and exciting air hockey table uses the classic game play in the a vibrant and attractive cabinet, that is guaranteed to stand out in any location!


---
The URL for this product is:
https://www.highwaygames.comhttps://www.highwaygames.com/arcade-machines/neon-air-hockey-table-17246/

Copyright © 1999 - 2022, Highwaygames.com All Rights