New Delta Cabinet - Red
This product comes from Highwaygames.com
---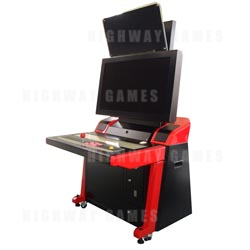 The New Delta is an arcade cabinet manufactured by RS Co. Ltd. The cabinet has a 32 inch LCD monitor and can easily switch between horizontal and vertical positions. Changing the position of the monitor is one of the great draws of the cabinet, with one person able to flip the monitor in less than one minute. The main monitor is connected to the cabinet by a back board. You simple lift the monitor up, and swivel.

The monitor is a 32" 15k - High Definition 1360x768, and auto changes based on the input resolution. Includes PCB interface for JVS and JAMMA.

All maintenance functions are located at the bottom front of the cabinet for easy operation.

---
The URL for this product is:
https://www.highwaygames.comhttps://www.highwaygames.com/arcade-machines/new-delta-cabinet-10362/

Copyright © 1999 - 2020, Highwaygames.com All Rights