Operation Ghost 55" DX Arcade Machine
This product comes from Highwaygames.com
---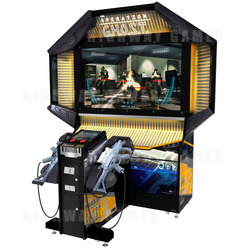 Operation Ghost 55" DX is a light-gun shooter sequel to Sega Amusements Ghost Squad. Operation Ghost is set in the year 2035. The game puts players in the shoes of two special force agents from the GHOST (Global Humanitarian Operations & Special Tactics) task force. The agents are on a mission to reclaim supplies of Uranium from the Blue Wolf terrorist network and avert nuclear disaster.

Players can select from five different mission stages as well as various challenge levels.

The cabinet features a multi-coloured LED monitor surround that is synced to in game action. This enables extended off-screen targeting and enemy approach direction indication.

Operation G.H.O.S.T is available in 42 inch DX and 55 inch DX models.

---
The URL for this product is:
https://www.highwaygames.comhttps://www.highwaygames.com/arcade-machines/operation-ghost-55-dx-arcade-machine-11590/

Copyright © 1999 - 2021, Highwaygames.com All Rights