Pac-Man's Arcade Party
This product comes from Highwaygames.com
---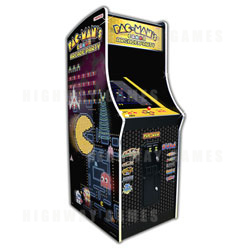 Relive your past and introduce the younger ones to the famous classic 1980's games just like the ones you played in the arcades ! In Ms. Pac Man, players gobble their way through classic Pac-Man mazes while trying to dodge the ghosts (Inky, Blinky, Pinky and Sue) so players can swoon and fall in the arms of their true love, Ms Pac-Man!

Comes with (12) TWELVE Classic 80's Video Games : Pac-Man, Pac-Mania, Galaga, Galaga '88, Bosconian, Dig Dug, Dragon Spirit, Galaxian, Mappy, Rally X, Rolling Thunder and Xevious all in one cabinet !


Features:

25" Commercial LCD Color Video Monitor
Coin Operated Cabaret Model includes Two (2) Working Quarter Coin Mechanisms
can be set for free-play.
---
The URL for this product is:
https://www.highwaygames.comhttps://www.highwaygames.com/arcade-machines/pac-man-s-arcade-party-11460/

Copyright © 1999 - 2022, Highwaygames.com All Rights