Pac-Man Swirl Arcade Machine
This product comes from Highwaygames.com
---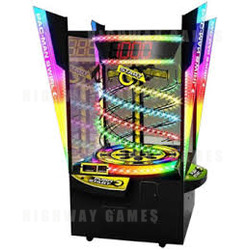 Pac-Man Swirl Arcade Machine is a ticket redemption game in which players must use superior reaction times and hand-eye co-ordination to win big!

Although being a single player game, the machine has four gaming stations, allowing four players to play at once and maximising the use of space and income.

The game features 3 different playfield layouts and the jackpot is operator adjustable. These customization options means all operators can have a machine that works best for their location.

Players simply insert their coin or token to start the game, and with careful and precise timing, players must hit the Start button to kick the ball off. The ball will spiral down the tracks and drops onto the rotating playfield. The ball will fall into a pocket, and the number of that pocket will be the number of tickets the player earns.

This bright and aesthetically exciting game will draw in players from all across the floor time and again for more chances to win. Best suited for young players and Family Entertainment Centres.

---
The URL for this product is:
https://www.highwaygames.comhttps://www.highwaygames.com/arcade-machines/pac-man-swirl-arcade-machine-16990/

Copyright © 1999 - 2021, Highwaygames.com All Rights