Pac Man's Arcade Party Cabaret Cabinet
This product comes from Highwaygames.com
---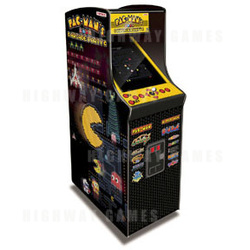 Pac-Man's Arcade Party brings you thirteen classic games, originally developed and licensed by Namco, and manufactured by such companies as Atari, Midway, and others for the coin-op industry - all in a classic upright Cabaret Pac-Man Cabinet.

The Cabaret Cabinet is a full size stand up model and features a LCD screen to bring all your favourite classic games to life.

The games include: Pac-Man, Galaga, Pac-Mania, Galaxian, Rally X, Mappy, Dig Dug, Xevious, Bosconian, Galaga '88, Rolling Thunder, Dragon Spirit and Bosconian.

---
The URL for this product is:
https://www.highwaygames.comhttps://www.highwaygames.com/arcade-machines/pac-mans-cabaret-cabinet-11079/

Copyright © 1999 - 2022, Highwaygames.com All Rights