Paint the Town Red
This product comes from Highwaygames.com
---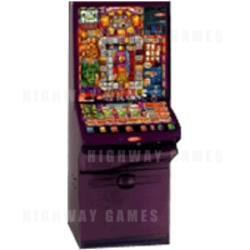 Paint the Town Red is Red Gaming's new AWP where players collect numbers off the reels to advance up a seven stage trail, which overspills into the main feature. Using Rudges and Bonus position 4 will help the player to advance more quickly.

The player then progresses around the lapper style board, incrementing values in the four pots, until choosing to collect wins from "Blasts," "Rudges," "Reel Step's" or "Wipeouts."

Whilst playing the main feature, if a player lands on a white square it will turn red which, when landed on again, will add to the collectable bonuses. One of the main aims of the game is to knockout a whole pot which allows the player to enter the "Casino Area" where they can win big money.

---
The URL for this product is:
https://www.highwaygames.comhttps://www.highwaygames.com/arcade-machines/paint-the-town-8871/

Copyright © 1999 - 2022, Highwaygames.com All Rights