Plants vs. Zombies: The Last Stand Arcade Machine
This product comes from Highwaygames.com
---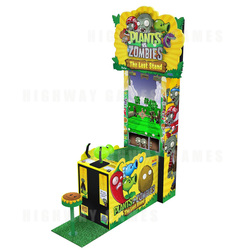 Plants vs. Zombies: The Last Stand is a ticket redemption, arcade machine developed by PopCap® Games, the creators of the top puzzle game Bejeweled®.

Sega's Plants vs. Zombies: The Last Stand puts the player at the control of a cabinet-mounted Peashooter that fires peas - yes, peas – to stop advancing waves of zombies.

The game has 10 3D 'gardens' or levels to defend. Titles are 'Backyard', 'Car Park', 'Rooftop', 'Golf Course', 'Farmyard', 'Graveyard' and 'The Hills are Alive with the Sound of Groaning'.

If any zombie crosses the players "last line of defense," the game is over and as zombies are destroyed, tickets are paid out. If all Zombie Waves are destroyed, the player wins the bonus!

A unique feature of Plants vs. Zombies: The Last Stand is the end-of-game, video displayed QR Code, which allows players to register their score online in a global high-score table. Players can also earn unlock codes that can then be used to change the game in crazy new ways!


Features:


42" LCD screen!
10 gardens to defend from the Zombie Onslaught!
Online leader board!
Fun unlocks to discover!
LED-lit Peashooter controller and iconic Sunflower seat!
Optional capsule vend!
Free Plants vs. Zombies™ The Last Stand standee included!
---
The URL for this product is:
https://www.highwaygames.comhttps://www.highwaygames.com/arcade-machines/plants-vs-zombies-last-stand-arcade-machine-16463/

Copyright © 1999 - 2021, Highwaygames.com All Rights