Playboy Pinball (2002)
This product comes from Highwaygames.com
---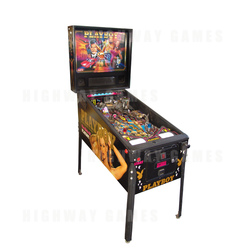 Stern & Playboy join to bring you Playboy Pinball, based on the world's NO.1 male magazine Playboy.

This new Playboy pinball machine is brought to you by George Gomez (designer of Monster Bash), Dwight Sullivan (programmer of T2 and Star Trek: TNG), and the team of pinball experts at Stern Pinball.

Stern has managed to cover Playboy's rich 50-year tradition, by bringing you the worlds most beautiful women in a glamorous lifestyle. The pinball features the Rabbit Heads challenge, where the player needs to collect 12 rabbit heads to complete a calendar year of Playmates, which unlocks 'Mansion Mania'.

The machine also features a mechanical Centerfold that opens and closes, along with several other unique playfield mechanisms that reveal the many beautiful women of Playboy. Of course Playboy being Playboy some of the images are on the adult side of things. Stern has thought of this and has included different interchangeable photo inserts for the playfield mechanisms, allowing for appropriately rated images for the venue in question.

---
The URL for this product is:
https://www.highwaygames.comhttps://www.highwaygames.com/arcade-machines/playboy-pinball-8643/

Copyright © 1999 - 2022, Highwaygames.com All Rights