Police 24/7
This product comes from Highwaygames.com
---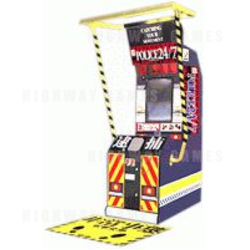 A shooting game from Konami that uses unique motion sensing technology that is able to detect a players movements in front of the cabinet and adjust the screen accordingly. The game is the sequel to Police 911, which also utilised motion sensing technology. Police 24/7 features five new stages and four selectable player characters.

Rather than requiring the player to move individual controls, the motion sensor technology allows players to maneuver their body. The player stands on the yellow foot pad, and must duck and dodge left and right during gameplay. The players movements are captured by three infrared sensors which are mounted on a bar overhead. The movements are fed back to the game, and the players actions are reflected on screen.

In the game, you take the part of a young police officer on the streets of Los Angeles. There are numerous adventures throughout the game, including taking part in a raid on a nightclub in the Little Tokyo region and arresting members of a ruthless gang of Japanese organised criminals. The action then spills out onto the streets and players must be careful not to hit innocent bystanders or fellow police by mistake.

When the members of the gang are all under arrest, you are chosen to take part in a daring undercover mission in co-operation with the Tokyo Police.



Shooting scores are ranked from 0 to 1000
The number of shots taken to complete a level is a big factor in the scoring system
---
The URL for this product is:
https://www.highwaygames.comhttps://www.highwaygames.com/arcade-machines/police-24-7-7961/

Copyright © 1999 - 2022, Highwaygames.com All Rights