Police 911 2
This product comes from Highwaygames.com
---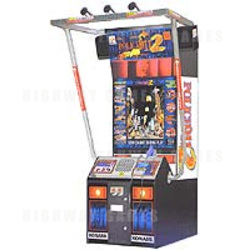 The Sequel to the sensor based gun game Police 911. Players this time take the guise as 1 of 4 police officers each with their own way of getting things done.

Gameplay centers around 6 famous Japanese cities and as with the first game, the machine tries to give as the player as much interaction with the game as possible. Thanks to the sensors placed around the frame of the machine the player can physically take cover from enemy fire by moving around in the sensor area.

This game is called "Police 24/7 2" in the European market.

---
The URL for this product is:
https://www.highwaygames.comhttps://www.highwaygames.com/arcade-machines/police-8731/

Copyright © 1999 - 2022, Highwaygames.com All Rights