Pop A Ball Arcade Machine
This product comes from Highwaygames.com
---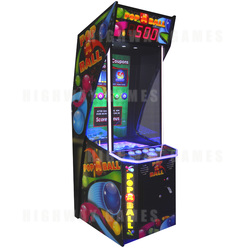 Pop A Ball Arcade Machine is a ticket redemption puzzle style game which uses a billiards theme to capture the attention of players.

The aim of the game is for players to POP the balls and see where they land. Players can also HOLD the balls and POP again to improve their win! Players must try to match all five colors in order to win the jackpot!

If players are careful and watch their strategy, they can win the Score Bonus for an even higher win and extra tickets! Pop A Ball is gameplay the whole family can enjoy!

The bright and exciting cabinet has a small footprint suitable for a wide variety of locations and is fun for players of all ages and skill levels.

---
The URL for this product is:
https://www.highwaygames.comhttps://www.highwaygames.com/arcade-machines/pop-a-ball-arcade-machine-17238/

Copyright © 1999 - 2021, Highwaygames.com All Rights