Pop'n Music éclale Arcade Machine
This product comes from Highwaygames.com
---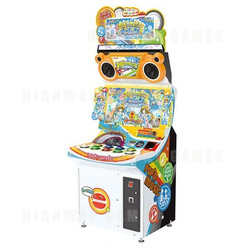 Pop'n Music éclale is a 2015 Japanese music/rhythm video game develop by Konami for their Bemani, and the 23rd release of the Pop'n Music series.

Some changes to the game include:


Character selection screen was changed: green buttons are used to select character categories and the red button to confirm. This is similar to pop'n music 20 fantasia's character selection screen.
Songs with jackets now feature their respective rival character for the song on the versus screen.
pop'n Star Maker (ポップンスターメーカー) replaces Story Mode from pop'n music ラピストリア as the main unlock system. You can acquire character medals and lumina (ルミナ) on this mode.
You can spend lumina on the Star Factory shop to purchase songs and decoration parts.
EX charts for new songs (save for licenses) can be purchased on Star Factory as well.
First pop'n music game since pop'n music 16 PARTY♪ where not every new song has a Battle HYPER chart.
The JUDGE+ modifier category is introduced. It includes the TIMING, LOST and PANIC options (previously, LOST and PANIC were OJAMAs).
Song backgrounds for pre-pop'n music ラピストリア songs have returned, though MISS and FEVER backgrounds have not.
All songs hidden in pop'n music Sunny Park and ラピストリア that weren't automatically unlocked in those games at some point are still hidden if not unlocked. They can be purchased in Star Factory.
First pop'n music arcade game since Seiya Murai's debut with no brand-new song from him on the default songlist.
All songs removed from the BEMANI category back in pop'n music Sunny Park have been put back on the category, now under a "BEMANI" sub-category inside it.
The new character design portraits don't show any visible signs when they lose or win on the result screen, as well as any facial animations.
The special 3P colors for pop'n music 18 せんごく列伝 to Sunny Park characters that the player had to input a code to unlock them are now unlocked by default (save for old songs that still have to be unlocked).
The ラピストリア alternate portraits for HIUMI, FUGA, Rars, Ryuta, RINKA, and RETSU are also unlocked by default.
Alternate portraits for ラピストリア's nia and toa were also added, the latter available by unlocking Hatcha Metcha Party.
Song previews and staff comments for songs return on the éclale web site, after both being removed in ラピストリア's.
Only KONAMI originals feature full staff comments, though. Contest songs only contain little blurbs from PON and wac.
The game received an upgrade on March 22nd, 2016, featuring new backgrounds and music.
A lot of songs got re-rated, too.
NET TAISEN (NET対戦) local play finally returned on April 14th, 2016.
This makes it the first pop'n music game since pop'n music 19 TUNE STREET to revive this mode at the main menu.

This fun and exciting music game has been enjoyed by countless players over the years and continues to rise in popularity.

---
The URL for this product is:
https://www.highwaygames.comhttps://www.highwaygames.com/arcade-machines/pop-n-music-clale-arcade-machine-17315/

Copyright © 1999 - 2022, Highwaygames.com All Rights