Prize POD Arcade Machine
This product comes from Highwaygames.com
---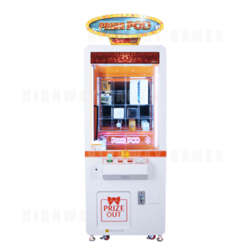 The Prize POD Arcade Machine is a prize redemption cabinet which is similar to such predecessors as the S-Cube and Magic Shot, where players must use their hand-eye coordination to win prizes!

The Prize POD is very simple and straight forward to play. Players simply insert their coins for credit, then use the joystick to move the bar to where the players wants it. Once the bar is in the right place, the player hits the button which will move the bar towards the hole in the plastic screen.

If the players manages to like the bar up perfectly to fit through the hole, they will win their selected prize!

The cabinet can display up to 16 different prizes and is quite slim allowing the cabinet to fit in a wide variety of locations.

However, the cabinet also features a luxurious lighting effect design and bright atrtractions, such as the glittering Prize POD marquee, so it will always stand out on any floor.

Operators also have the option of ordering the machine with Andamiro's Smart Monitoring System!



---
The URL for this product is:
https://www.highwaygames.comhttps://www.highwaygames.com/arcade-machines/prize-pod-arcade-machine-17174/

Copyright © 1999 - 2022, Highwaygames.com All Rights