Pump it Up: The Premiere 2
This product comes from Highwaygames.com
---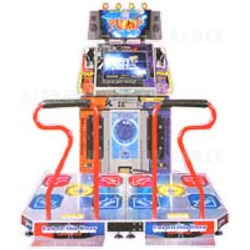 Pump it Up: The Premiere 2 is the international version of Andamiro's Korean music video game 'The Rebirth'. The game features 36 new songs (as featured in 'The Rebirth'), and 66 songs from previous title The Premiere.

Game modes available are Easy, Hard, Crazy, Full Double, Half-Double, Division, and Combo Battle.

Gameplay in The Premiere 2 is the same as other titles in the series. The cabinet has a dance pad with five arrow panels. Players choose a song and must step on the arrow buttons at the correct time. The arrows are synchronised to the music, and success is dependent on the player's ability to time and position their steps accordingly.



Also available in a DX version with a 51" rear projection screen
---
The URL for this product is:
https://www.highwaygames.comhttps://www.highwaygames.com/arcade-machines/pump-the-premiere-8732/

Copyright © 1999 - 2022, Highwaygames.com All Rights