Push-A-Prize Arcade Machine
This product comes from Highwaygames.com
---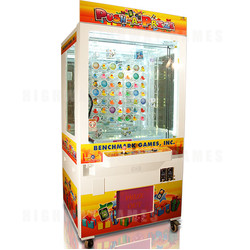 Push-A-Prize Arcade Machine is a skill only prize merchandiser and redemption machine in which players must use a joystick and button control to push the prizes from their platforms and win.

Just a little push and a little skill are all players need to win exciting prizes from this brightly lit, robust all-metal cabinet.

A variety of prizes, including ticket discs, rubber ducks, etc. will give players 75 different prizes to choose from.

The large, bright cabinet will stand out in any location and will draw in players from all across the floor for chances to win!


---
The URL for this product is:
https://www.highwaygames.comhttps://www.highwaygames.com/arcade-machines/push-prize-arcade-machine-17312/

Copyright © 1999 - 2022, Highwaygames.com All Rights