QUAD D Model Phone Card dispensers
This product comes from Highwaygames.com
---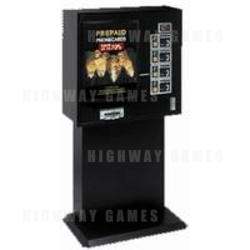 A phone card dispensing machine featuring OPAL's patented jam proof dispensing system. Ability to deliver a carrier with each card, including multilingual instructions "terms and conditions" rates and or coupons.

Optional features include a Bi-directional Data Transfer Module (DTM modem package) which features: MIS, self diagnostics, and other call out features including low card threshold. Customized paint and "turn key" graphics package for private label solutions. Marguard/Plexi graphics protective covering. Pedestal with optional brochure rack. Enhanced security systems. Back lit three sided Point of Sale signage Integrated scrolling LED sign. External Printer Port. Lockable note stacker and more...

The unit can be bolted on a service desk, to a wall, in a wall or mounted on an optional pedestal. The "QUAD" can be utilized in a protected environment that is not scrutinized 100% but does have some security i.e. bus and train depots, airports etc.

A multitude of software routines including extended multi-vend; i.e. insert two $10 or $20 for a twenty dollar card; or matching bill autovend i.e.; insert $10 bill to automatically vend ten dollar card etc. Accumulates bills in any specified denominations up to the maximum vend price, product can then be manually selected for vending.

The unit also has sales tracking abilities like access to details of last five transactions. Sales information can be accessed locally via scrolling messages on the credit display or printed on the optional printer and or remotely relayed via optional Data Transfer Module (DTM) Modem Package.

The unit also has sales tracking abilities like access to details of last five transactions. Sales information can be accessed locally via scrolling messages on the credit display or printed on the optional printer and or remotely relayed via optional Data Transfer Module (DTM) Modem Package.


Standard Features

Accepts $1, $2, $5, $10, & $20 bills.
No adjustments for varying card thickness.
Secure card display windows.
Tracks number of cards vended (by column)
Tracks quantity of each denomination and value of bills to cash box
Template provided in MAC format for customized graphics package
Last bill escrow
Vends cards with coupons/instructions
Reset and non-reset counters
M.I.S. data via credit L.E.D. display
Verification of last five transactions
Triple point locking mechanism
Battery powered alarm system with 115dB horn to signal: illegal door entry, excessive vibration from abuse
Optional tilt sensor
High security hardened stainless steel lock with triple point locking mechanism.
Robust 14 gauge steel cabinet and door with double "U" channel lip section for extra reinforcement.
Upgraded currency validator.

Options

Up-gradable modular Backlit face (15"x20")
Lockable and removable bill stacker for casino type security.
Foreign bill or currency validation.
Credit card validation.
Portable printer for hard copy of all transaction data.
Pedestal with optional integrated brochure rack.
Scrolling LED Point of Sale sign.
Backlit 3 sided Point of Sale display.
External key switch for last 5 transactions.

Remote Modem Package:

Bi-Directional Data Transfer Module for remote historic and real time viewing of sales transactions.

Self Diagnostics:

Machine will call host when cards are low, bill stacker is full or security is triggered.
Battery powered alarm system.
High security stainless steel lock.
Marguard/Plexi graphics protective covering.
$50 and $100 US bill acceptance.
Can validate bills, coins and give change.
---
The URL for this product is:
https://www.highwaygames.comhttps://www.highwaygames.com/arcade-machines/quad-model-phone-8048/

Copyright © 1999 - 2022, Highwaygames.com All Rights