Red Hot! (2 Player Version) Ticket Redemption Machine
This product comes from Highwaygames.com
---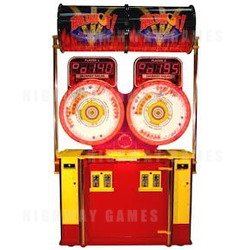 Red Hot! is a two player, ticket redemption game from Benchmark Games for up to two players. Players aim to drop six balls into 'flaming' targets on the spinning wheel. Tickets are awarded for targets hit, with six red tickets winning the super jackpot, and blue targets awarding the mystery bonus.

The cabinet itself includes several operator friendly features including convenient pullout ticket drawers, easy access via the larger swingout door, and LED lighting for long lasting service.


Features:

2 Player Model
Convenient Pullout Ticket Drawers which hold up to 36,000 tickets each.
Easy access via larger swingout door.
User Programmability.
L.E.D. lighting for long lasting service.
---
The URL for this product is:
https://www.highwaygames.comhttps://www.highwaygames.com/arcade-machines/red-hot-two-player-ticket-redemption-benchmark-games-10168/

Copyright © 1999 - 2022, Highwaygames.com All Rights