Red Zone Rush Ticket Redemption
This product comes from Highwaygames.com
---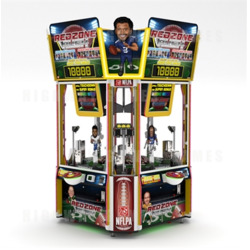 A fun colourful 4 Player cabinet featuring Licensed NFLPA superstars!
Attractive LED lighting
A closed loop, self contained with ticket payout
Dozens of Mini footballs labelled with letters and ticket values
Skilfully spell out "TOUCHDOWN" with the labelled footballs by playing the game to win a super ticket BONUS!
Win Collectable trading cards
Collect all 8 defensive or offensive cards for ticket bonuses, and/or all 16 cards for a super BONUS!

---
The URL for this product is:
https://www.highwaygames.comhttps://www.highwaygames.com/arcade-machines/red-zone-rush-19209/

Copyright © 1999 - 2022, Highwaygames.com All Rights