Reflec Beat groovin'!! Upper Arcade Machine
This product comes from Highwaygames.com
---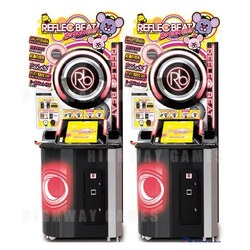 Reflec Beat groovin'!! Arcade Machine is the fourth installment of the touch screen-based music video game and Upper is its extension pack.

The game continues to use the same air hockey play style from previous games, with notes bouncing from top to bottom, as opposed to side to side. In this installment, there has been a new type of object introduced - the Vertical Object.

Several songs now have a "Special" difficulty, accessible for premium users who use PASELI e-money system. Premium users can access "REFLEC Dojo", which play a course of randomized songs that use a meter similar to the one used in Pastel Wonder Traveler from REFLEC BEAT colette.

There are also GOOD and MISS Judgements that will decrease the gauge, while JUST REFLEC increases it. The game also introduces "Refle", an in-game currency similar to Dellar Points used in sister series, Beatmania IIDX, which can be used to purchase songs and charts from the Reflec Shop.

The Ref;ec Beat groovin'!! Upper extension pack was released on November 20, 2014. This pack introduced the Upper Gauge (which increases based on gameplay and converted into points which can be used to buy new customization unlocks and access different modes) and two new gauges: a "HARD Gauge" (gauge which is similar to the one used in Pastel Wonder Traveler and Reflec Dojo), and the "SUPER HARD Gauge" (a much harder variant of the "HARD Gauge").

The player can now have an option to select songs through the column format instead of the traditional grid format. Gameplay voiceovers are also added which also used in Dance Dance Revolution games.

The following is a list of information and changes in the Upper extension pack:


New Upper Gauge and Upper Points system added. These are used to unlock new customization options.
A new Expert mode for the song selection screen was added, where song titles are displayed on a vertical scroll wheel on the right side of the screen, similar to beatmania IIDX. More information about the chart is shown on the left.
All songs locked/hidden in REFLEC BEAT groovin'!! are still as such if you didn't unlock them in the previous game.
A gold ring now appears together with concurrent objects, as opposed to the previous golden aura. The ring has a red or blue highlight for concurrent top and normal objects, depending on the side you play on.
The top judgement points now highlight as top objects approach them.
Announcer now speaks in the middle of gameplay. The combo reaching a multiple of 100 and the Upper Gauge advancing a level are announced. These can be turned off if desired.
Two new, harder clear gauges, the Hard Gauge and Super Hard Gauge, are added.
A new level in REFLEC Dojo's Dani Nintei mode, 最高師範 (Highest Instructor), was added.
The default music select BGM has been slightly re-arranged.
On February 28th, 2015, a HARD BATTLE MODE option for the REFLEC Dojo's Nintei Shiken (認定試験) mode was added, which triples the HP damage.

This bright and engaging cabinet will draw players in from all across the floor, while the fun and simple game play will entice players to play time and again.

---
The URL for this product is:
https://www.highwaygames.comhttps://www.highwaygames.com/arcade-machines/reflec-beat-groovin-upper-arcade-machine-17025/

Copyright © 1999 - 2021, Highwaygames.com All Rights